Our Senior Leadership Team's expertise in a broad range of disciplines, combined with passion for athlete safety, guides the U.S. Center for SafeSport's pursuit of its mission of ending abuse in sport.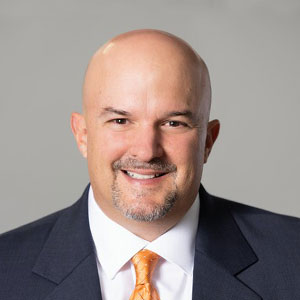 Jorge A. Fernandez
Chief Financial and Administrative Officer
Jorge A. Fernandez, CPA, has joined the U.S. Center for SafeSport's Senior Leadership Team as Chief Financial and Administrative Officer. Jorge has been a business and nonprofit senior executive for 25 years, with extensive experience implementing operational strategies, executing corporate goals, and establishing and maintaining operating financial controls.
Prior to joining the Center, Jorge was chief financial officer at PROCHAMPS. He also lists upper management stints at First Choice Healthcare Solutions, International Space Station U.S. National Lab, Celsia Technologies Inc., Tiger Direct, PRG-Schultz Latin America Division, and Fiera Group on his resume. He began his career at Arthur Anderson.
Jorge, who is fluent in Spanish, received his bachelor's and master's degrees in accounting from the University of Florida and is a Certified Public Accountant (CPA) licensed in the State of Florida. Jorge, of Cuban descent, is originally from Miami. He now lives in Melbourne, Fla. with his wife and two daughters.
Hannah Hinton
Vice President, Organizational Development and Compliance
Hannah Hinton is Vice President of Audit & Compliance for the Center. A native of Gainesville, Florida, Hannah served as Associate Commissioner for Compliance and Senior Woman Administrator at the newly created Mountain East Conference (MEC; NCAA Division II). Hannah created, developed, and refined the MEC's compliance program with an emphasis on organizational transformation. In 2015 she was named the organization's Chief Diversity and Inclusion Officer, in which role she provided strategic and programmatic leadership for the conference.
Hannah served on multiple Division II committees including its Management Council, Committee for Women's Athletics, National Tennis Committee, and Membership Appeals Committee (which she chaired). She earned a bachelor's degree (magna cum laude) from the University of Cincinnati in 2007, where she played #1 in singles and doubles tennis and led the team as captain for two straight years. She earned a juris doctorate from the Boston University School of Law in 2010 and was admitted to the Georgia Bar in 2011.
Jessica Perrill
General Counsel
Jessica Perrill is General Counsel for the Center and brings fourteen years' experience as a senior lawyer at the Colorado Attorney General's Office. She served as managing attorney for one of the largest legal teams at the AG's office, overseeing sixteen attorneys and five paralegals and guiding the litigation strategy for her department. Jessica began her career litigating cases involving child abuse, neglect, and the mistreatment of at-risk adults, on behalf of her client, the Colorado Department of Human Services. Jessica has extensive experience training and coaching attorneys and is skilled at finding practical solutions for complex legal issues and process-related concerns.
Jessica earned a B.A. from Connecticut College, where she played Division III soccer. She then went on to earn a Juris Doctor from the University of Colorado School of Law. She currently serves on the Board of Directors of Warren Village, a local Denver non-profit organization that helps low-income, single parent families achieve sustainable personal and economic self-sufficiency. Jessica lives in Denver with her family and enjoys all that Colorado has to offer.
Monica Rivera
Vice President, Prevention Education
Monica Rivera (she/her) is originally from the East Coast and has been working in the field of interpersonal violence advocacy and prevention education for over 17 years. Monica holds an undergraduate degree in Sociology from Syracuse University, and a graduate degree in Sociology from Colorado State University. Most of her professional career has been in higher education, where she served as director for a 24-hour interpersonal violence confidential crisis center on a large college campus. She is also an adjunct faculty member in the Departments of Ethnic Studies and Women's Studies. Before joining the U.S.Center for SafeSport in 2023, she served as the Executive Director for Violence Free Colorado, the state's interpersonal violence coalition. Monica's honors include presenting a TedX Talk, and being a featured content expert on CBS Evening News Special Report, NPR, PBS, and in The Atlantic. Her published work includes Education Week's "10 BIG Ideas Special Report,"and she served as chapter co-author in "New Directions for Student Services: Addressing Sexual Violence in Higher Education."
Martha Van Gelder
Vice President of Marketing, Education, and Partnerships
Martha Van Gelder is Vice President of Marketing, Education, and Partnerships, and joined the Center in 2018 with over 20 years of leadership experience at nonprofit, higher education, and consumer marketing companies. Martha's higher education roles have included Executive Director of Commercialization for the University of Colorado's Anschutz Medical Campus' Health and Wellness Center, and Director and Professor of Practice for the University of Arizona's Center for Retailing and Consumer Analytics. She was responsible for strategic partnership development and new programming initiatives at both institutions.
Martha was Vice President International and Managing Director for Gaiam, and Executive Vice President, International at Sesame Workshop. Earlier management roles included Executive Director for Walt Disney's Asian home entertainment division and Group Marketing Manager at L'Oréal's Redken subsidiary. Martha earned a bachelor's degree from Skidmore College and a master's in business administration from the Thunderbird Global School of Management. Martha lived over 10 years overseas in Asia and Europe.